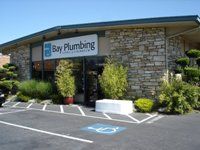 Bay Plumbing Supply began back in 1987. The original owners were Santa Cruz locals and saw a need for a decorative showroom as well as a service oriented wholesale counter for the professional plumber.
This unique layout has proven to be exceptionally advantageous for the coordination of construction projects, bringing both the homeowner and their contractor together under one roof. Bay Plumbing Supply's vast knowledge of plumbing on both sides of the wall makes for a much smoother project for the professional and the homeowner alike.
Bay Plumbing Supply was acquired in 2000 by the current owner, another local, who was raised here in Santa Cruz. Both the wholesale and the showroom have grown since, offering a much wider array of choices in the showroom and the capacity to take on large commercial projects as well.
We are a "Certified Green" business focusing on both water conservation as well as energy conservation. With so many new products on the market to help conserve water and energy, we make it our goal to stay educated on all of the latest product offerings. Bay Plumbing Supply is dedicated to being a "one-stop" plumbing shop, with a very wide ranging inventory. Our motto, "We've got it all, on both sides of the wall".

In 2007 the owner acquired Pacific Energy Sales and moved it next door to Bay Plumbing Supply. By making this move we now have added Hydronic/Radiant heating as well as Solar Thermal to our arsenal of expertise. Being next door to one another is just another added convenience for the contractors.
Committed to its community, both Bay Plumbing Supply and Pacific Energy Sales, support many local charitable organizations as well as several school districts. The owner feels strongly about giving back to the community that raised him. 
We are a supporting member of GREENPEACE!
To contact Bay Plumbing Supply click HERE.