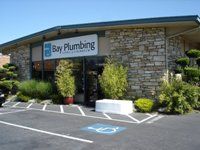 Welcome to Bay Plumbing Supply and Showroom. Glad you are visiting the site!
For 25 years, Bay Plumbing Supply has been providing plumbing supplies, decorative and eco-friendly kitchen and bathroom fixtures to homeowners, plumbers, and contractors for new construction or remodeling.
Have your expectations surpassed as many home builders and designers have in our Showroom, displaying working showers and whirlpool tubs. Vignettes in various styles will help you visualize what you desire for your kitchen or bathroom project or remodel. See the latest in decorative plumbing, accessories, vanities, and lighting displays.
To save you time and money, the sales staff at Bay Plumbing Supply are frequently trained by factory representatives. This gives you the confidence that we will supply the best products to fulfill your vision in design or to replace/repair existing fixtures that may be having issues.
Bay Plumbing Supply's in-stock inventory includes Icera, Inax, Toto, Grohe, Hansgrohe, California Faucets, Santec, Kohler, and American Standard to name just a few. If there is a specific faucet, sink, toilet or tub you are looking for, click here to see all of the brands Bay Plumbing Supply offers.
Looking for a great deal? Check out the specials page for current showroom deals and showroom displays that we are selling from the sales floor.
Friendly, personalized customer service is Bay Plumbing Supply's hallmark. But don't take our word for it. Let Bay Plumbing Supply prove it to you. Come on in and see how to make your vision a reality or your repair problem a thing of the past.
To assist with your selection process at Bay Plumbing Supply, see this article Remodeling tips and questions to ask. This can give you tips as to what to bring with you to the showroom to help us help you.
Ask us about specialty services offered too - like quartz countertops and custom shower enclosures.
Looking forward to seeing you in the showroom soon! Get directions.